Videos
Subscribe to our Youtube channel
Click on this

.

With a google account you can post comments, questions and put like! Each of these videos will explain you carefully how to realize basic operations.
A single view will convince you that SIM is really the user friendly application you are looking for!
Publish your stock inventory to the Web
SIM is a very flexible application to manage your inventory, for most of businesses or and any company size. To protect your data and improve performance, it is usually installed on locals servers or workstations. This demo shows how you can share your data to anyone on the cloud using or option WEB EXPORT. This enables you to give access to what yout to show, to colleagues, partners, cutomers or suppliers who needs to know hat you have in your warehouse.
Warehouse Storage billing

Many of SIM's users are storing customers goods in their warehouses.
They need to make a monthly bill calculated from the number of locations used, multiplied by the duration.
We have the SIM WMS option which is very powerfull, but to make an easy upgrade, look at our new BILLING option, sufficient for small businesses.
Customize SIM

SIM is very flexible: you can easily change columns name to fit your own terminology.
Here is how to do it, but reading the manual or calling us also possible!
Forecasting future stock issues

With SIM CARTS it is easy to anticipate future customer deliveries, therefore to schedule the removing of goods. With SIM Orders Management it is easy to anticipate suppliers deliveirs, therefore to schedule the incoming of goods. So, why don't we just list all theese futures moves on a simple diagram to anticipates issues ? The option PLANNING is doing that for you, and its export function makes everything possible.
Search tools

SIM is equiped with a search tool that is able to sort your products. SIM can save your previous searches to gain both flexibility and time.
New Product

With SIM you can easily add a new product, and customize the criterias needed to create it.
Operation logs

SIM is equiped with a log tab in which you can find a history of every changes made since the beginning. You can filter between a specific timelapse thanks to the period button
Bulk update

You can easily update one or several products thanks to the output button.
Export to Excel

With the export option you can export your data from the logs and the products tabs in 3 different formats
Import from Excel

With SIM it is very easy to switch from you Excel files to a real user-friendly software. This video shows how you can import your data files or supplier's products lists in less than 30 seconds. If you need assistance, just ask for help!
Location management

In less than 5 clics you can add products to your stock with specific locations, il less than 5 clicks you can remove them from stock, selecting the best location. Many search tools enables you to optimize your process. Ask for extensions such as locations map, barcode scanning, re-packing features and palets loading calculation. Of course, these features are compatible with all our barcode readers. A real WMS system!
HandHeld Barcode Terminal
Now, you can:
- Control your products directy from the shelves.
- Count products when the delivery arrives.
- Check that you send exactly ordered quantities.
Our system is compatible with most wireless or USB scanners like Opticon 3001. Let the people do the tracking in the warehouse, and update the PC data base when job is over.
Without stress!
-SIM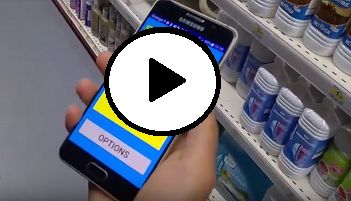 Android barcode scanner

There are many barcode apps available.. but this one is different for two reasons:
1. You can choose between input or output, enter quantity, and in specific versions, add information to identify your data.
2. You can scan your products without any connexion, as data are stored in your telephone. When a connexion is available, the you can send data to your SIM data base.

Print pages of barcodes

The best way to create barcode labels is to use a dedicated machine like ZEBRA. But when you do it only once upon a time, you can print with standard printer on normal white sheets or using pre-cutted adhesive labels. Instead of using EXCEL, Simple Inventory Manager makes things really simple. You can create barcodes from any Excel file of barcode list, and create exactly the label you want.
On the web :
| Name | Vidéo |
| --- | --- |
| Installation | Link |
| Run | Link |
| Search | Link |
| New product | Link |
| Logs | Link |
| Bulk product update | Link |
| Export | Link |
| Import excel file | Link |
| Storage location WMS | Link |
| Barcode software for optimised inventory | Link |
| Print pages of barcode labels | Link |
| Stock level planning | Link |
| OPH | Link |
| Settings of SoltiScan (french) | Link |
| Share excel data with SODA | Link |